Finding the best way to get a free SHEIN gift card has become a must in 2022! The fast fashion retailer has become a viral app sensation across the world, and it's easy to see why. It's hard to compete with the vast supply of fashionable clothes at affordable prices, and their app has made shopping fun even when you're by yourself at home.
So what true shopaholic wouldn't want to get a free SHEIN gift card codes? Turns out you can get the official SHEIN gift card as sold by SHEIN by playing fun and simple games on Playbite!
Playbite looks a lot like Netflix or Spotify in the sense that it has one app where all its content lives, but instead of movies or songs, the content is fun and simple games. We're talking games your grandma could play and enjoy – not crazy difficult things like Fortnite.
As you play the games, you earn points, and then you can spend those points in the app's Shop for all kinds of prizes. One of the top prizes is the official SHEIN Gift Card!
As if that wasn't good enough, Playbite doesn't show you all those annoying ads either! Instead it monetizes through brand partnerships, so the app experience is truly enjoyable.
You can join Playbite now or learn more about how it works below.
📲 Get free SHEIN gift cards for playing fun games
Join Playbite for free!
Get free SHEIN gift card promo codes on Playbite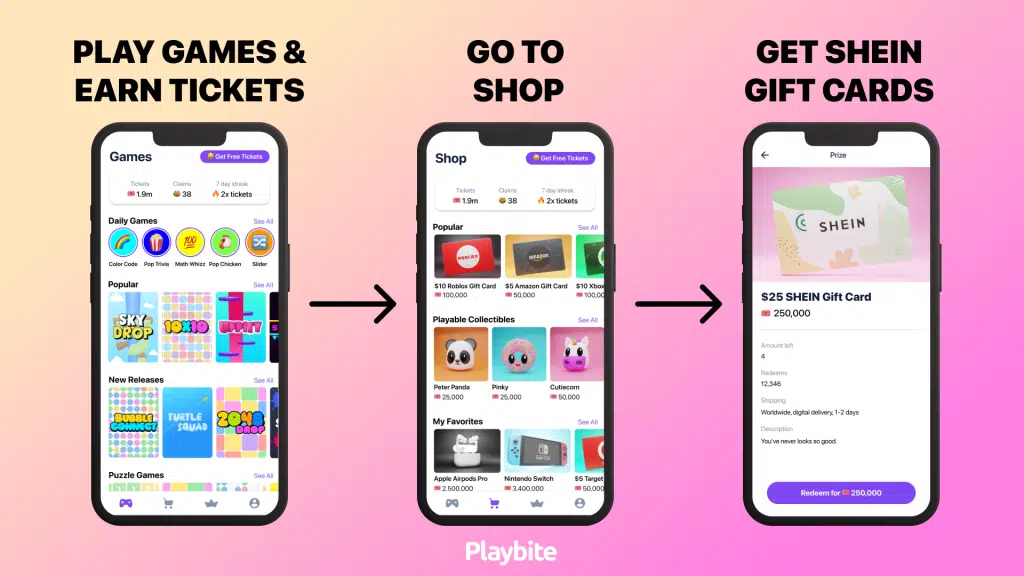 Playbite is an arcade, but it's one everyone from teenagers to moms to grandparents can all enjoy! The app and website offer simple games of all kinds, and it gives you points for playing.
Then, you can redeem your points for prizes of all kinds, including free gift card codes or coupons from all major retailers like SHEIN or Amazon.
Once you get your SHEIN gift card prize, you'll receive an email with your SHEIN promo code. THen you simply go to the SHEIN app and input the code to your account at checkout!
What's even nicer is you still get SHEIN points while shopping with gift cards, so you can rack up those as well.
📲 Get free SHEIN gift cards for playing fun games
Join Playbite for free!
What's the catch?
No catch! The app is free to play and doesn't have all those annoying ads. We simply partner with brands and have them pay us to be in our Shop instead.
So you can even win the prizes they offer too! It's a win-win-win.
What are you waiting for? Come play and get your first SHEIN coupon code on Playbite!
Gift card code generators don't work!
You also might have come across free shein gift card generators. Let me just tell you right now: those don't work and are a scam!
They try to lure you with giveaways, cash back offers, PayPal rewards, or Visa gift cards, and tout things like "generator no human verification." Whatever that means…
All those platforms try to do is guess a valid gift card number. Not only does it not work, it's also not cool. They're basically trying to steal from SHEIN!
Get a free SHEIN gift card now
Everyone from famous TikTok influencers to regular every day people are shopping on SHEIN, and playing games on Playbite is the best way to get a free SHEIN gift card while having fun!
Even more exciting: SHEIN is just one of many prizes! If you want to get others like e-gift cards for Amazon or discount codes from major retailers, Playbite is the place to be.
Join Playbite to save money and start having fun today!
📲 Get free SHEIN gift cards for playing fun games
Join Playbite for free!